About the Authors
Also visit Az and Nina on www.thinkwelltobewell.com for their unique approach to improving your sense of wellbeing.
Azmina Govindji BSc RD is a consultant nutritionist and dietitian, broadcaster, best-selling author and Master NLP Practitioner.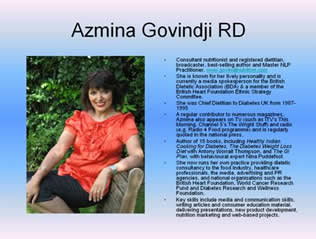 She started her early career as a clinical dietitian in several hospitals (gaining direct experience with patients). She then spent 8 years as the National Consultant on Diet and Diabetes when she was Chief Dietitian to Diabetes UK. This experience makes her particularly qualified to write this book, as Gi is a concept that has been used in diabetes for years. She now runs her own practice providing dietetic consultancy to the food industry, healthcare professionals, the media, and national organisations such as the British Heart Foundation and Diabetes Research and Wellness Foundation. She is currently Chairperson of the British Dietetic Association (BDA) PR Committee and a member of the BDA Executive Council.
In 2002 Azmina won the Ismaili Community National Award for Excellence for outstanding professional achievement, as judged by Professor Kenneth Calman, former chief medical officer to government.
A regular contributor to numerous magazines, she also appears on TV and radio, and is frequently quoted in the national press as spokesperson to the British Dietetic Association. Azmina has worked on two diabetes education videos with GMTV's Dr Hilary Jones and is author of ten books, including Healthy Eating for Diabetes with Anthony Worrall Thompson, Weight Watchers 123 Success 2000 Millenium Cookbook, and Think Well to Be Well with Nina Puddefoot.
Her new website is available at www.govindjinutrition.com
Nina Puddefoot is a Master Practitioner and Certified NLP Trainer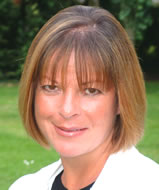 and development life coach. She works with leading-edge and creative models of thinking within multinational organisations and industries as well as individuals worldwide.
She is an author and regular presenter of public programmes, talks and workshops and has
appeared as a guest speaker on The Aurora. Nina has featured in a series of programmes about business and health for cable television and regularly makes contributions to radio, newspapers and magazines, including The Daily Mail, New Woman and Family Circle.
She is renowned for her ability to quickly establish relationships with sensitivity and humour and for enriching and inspiring the lives of others through her support for individuals' empowerment and passion.
© 2004 Azmina Govindji and Nina Puddefoot. All Rights Reserved.
Site design by
Christopher Hoult