Visit our other websites:
----------------
The Hot Body Plan
www.handbag.com
"No, it's not another diet but a chance to question and change personal body and food attitudes. It's like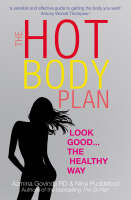 a personal coaching, food educating, fitness regime all rolled into one, and at a great price too."

The Hot Body Plan, by Azmina Govindji RD and Nina Puddefoot
Voted one of the 10 best diet and fitness books by www.handbag.com,
15 August 2008
The Hot Body Plan isn't about avoiding your favourite foods; it's about asking yourself which choice you'd rather make. It's about equipping you with a treasure chest of tools and lots of swap lists so that you can choose the food or snack that's just right for any given moment. And if you're a party animal, chances are that you'll want to let your hair down. So when you're at a party, this isn't about sitting around with a few carrot sticks on your plate. We will show you how to prepare yourself throughout the week so that you can enjoy your hot body plan with a clear conscience, alcohol included!

The Gi Plan — more than just GI or GL, it's unique and it works
"A slimmer you in just 10 days. It's based on tried and tested scientific principles, which means it's a diet that really works, and you could lose up to an inch from your waist in just 10 days."




The Mail on Sunday

, January 8, 2006

The 10-day Gi Diet

10 days, four steps, flexible and fun
tasty, slow carb menu choices, recipes and ready-made shopping list
hundreds of everyday foods in the unique GiP system
motivating ways to change your relationship with food


* delicious recipes * menu plans * exercise advice * help beating snack attacks * willpower boosters *

Buy it now on Amazon



Leading UK nutritionist & dietitian Azmina Govindji RD and life coach Nina Puddefoot have designed a practical guide to make GI work for you. Combining scientifically based weight loss strategies with upbeat, motivational tips, Az & Nina have designed a punchy, practical and fun 10-day plan that will help you start your weight loss with a bang - and then convert you to a healthier eating plan for life.

Find out more . . .
We also offer a range of Gi-related and wellbeing services including:
new product development
promotion of low Gi foods and menu choices
well-being angles for the food industry
lifestyle coaching and more - (read more)
We pride ourselves on understanding and meeting our clients needs efficiently and with utmost professionalism. Your confidentiality is highly valued and we seek to build long term relationships with clients.
© 2004 Azmina Govindji and Nina Puddefoot. All Rights Reserved.
Site design by
Christopher Hoult